Final day highlights of the Quiksilver Open Phuket Thailand 2012.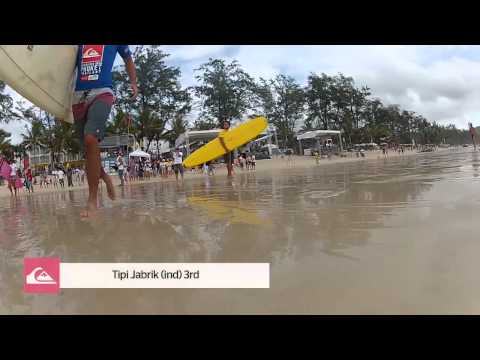 The Quiksilver Open Phuket Thailand was sponsored by Quiksilver Thailand, Yamaha, D.A.D., Nok Air, Chang, the Phuket Graceland Resort & Spa, and the Tourism Authority of Thailand, with partners the Phuket Province, the Patong Municipality, Phuket Best Event, and supported by Surfing Thailand, the Asian Surfing Championships, the Coca-Cola Indonesian Surfing Championships, Very TV, HOT FM, and the Green Channel.  International media support provided by the ASC includes: Surfersvillage.com, MyLifeonBoard.net, Balibelly.tv, Baliwaves.com, Lines Magazine, Surftime Magazine, Magic Wave Surf Community Newspaper, Royal Video Magazine, Alam TV Bali, and the Outdoor Channel.
About Quiksilver:
Quiksilver, Inc. (NYSE:ZQK) is the world's leading outdoor sports lifestyle company, which designs, produces and distributes a diversified mix of branded apparel, footwear, accessories, snowboards and related products. The company's apparel and footwear brands represent a casual lifestyle for young-minded people that connect with its boardriding culture and heritage.
The reputation of Quiksilver's brands is based on outdoor action sports. The company's Quiksilver, Roxy, DC, Lib Tech and Hawk brands are synonymous with the heritage and culture of surfing, skateboarding and snowboarding.
The company's products are sold in over 90 countries in a wide range of distribution, including surf shops, skate shops, snow shops, its proprietary Boardriders Club shops and Quiksilver company-owned retail stores, other specialty stores and select department stores. Quiksilver's corporate and Americas' headquarters are in Huntington Beach, California, while its European headquarters are in St. Jean de Luz, France, and its Asia/Pacific headquarters are in Torquay, Australia.
For further information about Quiksilver, Inc., you are invited to take a look into our world at:?www.quiksilverinc.com, www.quiksilverfoundation.org, www.quiksilver.com, www.roxy.com, www.dcshoecousa.com, www.hawkclothing.com.
Quiksilver is officially distributed by the Primer Group of Companies in the Philippines. Quiksilver is  now available in the following stores:
Quiksilver Stores: Quiksilver SM Cebu * Quiksilver Abreeza Mall Davao * Quiksilver Nuvali Solenad 2 * Quiksilver SM North EDSA (Annex) * Quiksilver Alabang Town Center * Quiksilver Harbour Point Subic * Other Outlets: R.O.X. stores *  Bratpack Stores * The Travel Club stores (Bags & travel only) * Res|Toe|Run Stores (Slippers Only) * Rustan's Shangrila * Chimes Mall Davao * Stokedinc * Selected Toby's store * NAIA Terminal 3 * selected Urban Athletics store * Royal Sporting House Ermita
About the Asian Surfing Championships
The Asian Surfing Championships began in 2011 with the mission of growing the sport of surfing in South East Asia from the grassroots level by assisting each country in organizing professional surfing events that will develop the skills of their surfers in healthy competition as well as to draw attention to their area for the progression of surfing locally, nationally, and throughout the SEA area.
Organized surfing competitions have historically been the best medium for the development of surfers and for the sport of surfing, where learning how to compete fairly and to being disciplined in training and competition are key skills needed not only for surfing but also for life.
The ASC works with the local, national and multinational event sponsors and organizers to maximize the results of these competitive surfing events towards accomplishing the goals of sharing the sport of surfing and bringing positive economic, social, and environmental benefits to the people in these South East Asian countries.  See more athttp://www.asiansurfingtour.com
About the Coca-Coca Indonesian Surfing Championships
The Coca-Cola Indonesian Surfing Championships is the sanctioning body for professional surfing in Indonesia.  The ISC was established in 2004 to provide surfing athletes with a consistent, legitimate, and respected forum where they can compete and measure themselves against their peers, a stepping-stone towards their ultimate goal of becoming a professional surfer at the international level
With the support of Coca-Cola Amatil Indonesia, through organized surfing competitions, the Coca-Cola ISC seeks to grow the awareness of the sport of surfing in Indonesia and throughout the Asian region for the benefit of the surfers, their community, their environment, their nation and the surfing industry.  Find out more at www.isctour.com