I've been preparing for this day, December 19, 2010. My first ever longboard Push race competition. I joined this competition not to win but to gain experience and make new friends from this race.
It was Sunday morning and I was still dreaming about winning the Longboard Broadway bomb in New York! Then the megaphone's siren blasted in my ears, it was 6:30 am. My head was still in pain because of the branch of a tree that hit me when I ran because the rain fell instantly that night. I ran to secure our tent the night before the race. Then, the competitors were called in to go and position our selves for the race. It had some minor delays due to the clearance of the road that we will be passing. The marshals of the race were called on, the  medics from Red Cross were ready and the by-standers were already cheering. In that moment, I was excited but a bit nervous. My heart is pounding, and my hands were dead cold. Then, the race started. I felt it was like running a marathon, the competitors were running to get their longboards and started pushing until they catch speed. I was calm but focused, determined to finish the race.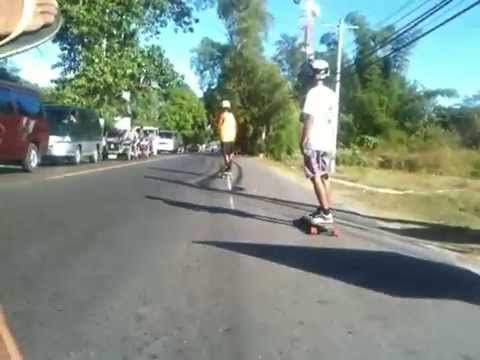 I am gaining momentum, and I'm getting enough speed, but the road that we passed by was not longboard friendly, in other words it was not smooth! still we were eager to continue pushing, trying to surpass the vibration from the rough cement road. Until we finally felt a smooth ride, praise the Lord. It was the national highway. Spectators were there to cheer, give us water to drink and to give their support. People went outside their houses, cars, buses and tricycles were letting us through. Feels like it was Marlboro tour. Finally, off from the highway, back to small streets, I feel the fatigue, the lactic acid were building up on my left leg ( i'm a goofy rider) and I was not having enough speed. Pj Quipit, (I introduced him from my previous blog), passed me and slowly he became smaller and smaller on my sight, then he was gone. Man, he's tough! that moment, I realized I need to push more,gain speed and continue my momentum. As we pass the final stretch, in my mind I'm praying that I must survive this race, then spectators were cheering "Malapit na!", ( the finish line is near!), it gave me a final burst of power, then I reached the finish line.
Happy and contented, I felt the race was worth it. Testing the limits of my body's strength, making new friends, and carving a new experience in my life, yeh, I know for sure I'll be back, and will expect to join more push race and soon be evolved into a downhill rider.
Here are the winners of the Longboard Pushrace competition
Dandoy Tongco (Champion)
Ricric Ricablanca (1st Runner Up)
Ering Ricablanca (2nd Runner Up)
Arjun Jimenez (3rd Runner Up)
Thanks to Malachi skate apparel for sponsoring my longboard case and shirt. That was indeed a memorable experience! Until the next Zambapalooza! cheers!